Gift Card and luxury Soaps Pack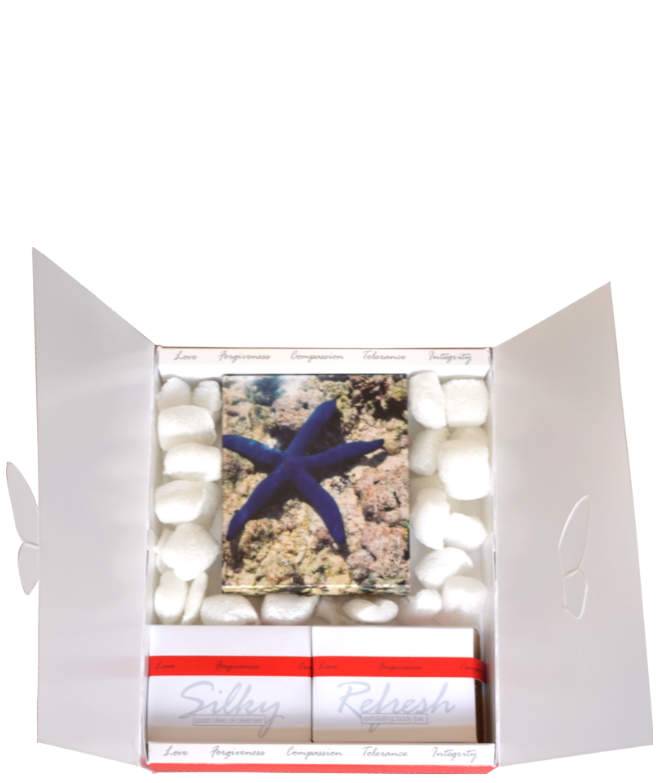 An inexpensive little gift for friends and family to say you care. Presented in one of our beautiful Butterfly Boxes, unfold the 'wings' to reveal natural hand crafted soaps and our Nature's Window card series of 14 delightful cards showcasing New Zealand and the South Pacific.
Our Gift Packs are great buying - all having a set discount price to rely upon, making gift purchasing simple and easy. 
Value $56.97      Pack Price $39.99      Save $16.98
Biospherically Correct Rating
This product carries a Biospherically Correct rating of 1 2 3
The First Generation marker means that you can trust we've endeavoured to consider all social and ecological elements intrinsic to this product. Your purchase is an important part in helping us bring 2nd and them 3rd generation Biospherically Correct products to the world.
Card pack can be displayed on the mantle piece or desk top. Luxury cleansing bars include our extra gentle olive facial cleanser and the body exfoliant bar, both ideal to take away on holiday. 
Pack Contains: Silky Olive Oil Cleanser, Refreshing Exfoliating Soap and a small box set of Nature's Window Card Series - 14 greeting cards (8.3 x 9.7 cm when folded). Butterfly Wing box made with cardboard from sustainable forestry. 
Value $56.97      Pack Price $39.99      Save $16.98
Complimentary gift card included. Remember to leave message instructions at checkout if you wish direct delivery to recipient.
Vision Products Online Ordering Guarantee
Be assured that if you are not completely satisfied with your purchase, or simply change your mind
we will be pleased to refund, exchange or repair within the following guidelines
Associated Charites
Select an associated charity at checkout to support on your behalf
You may also like the related products