Reviving Sea Salt Exfoliant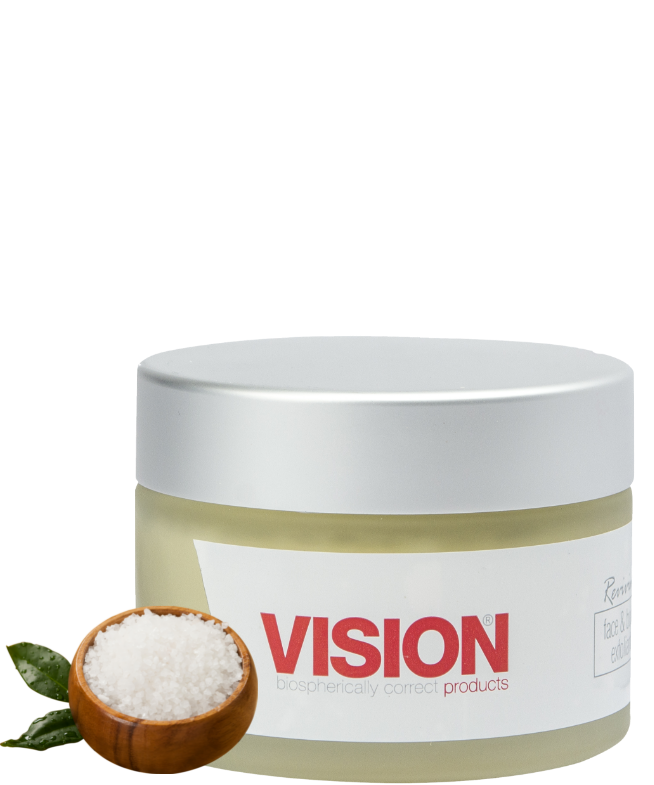 For clearer, younger, more radiant skin

Made with New Zealand's own sea salt to deeply cleanse the skin, removing dead or hardened skin, reducing blemishes, and helping smooth scare tissue. With rich oils of jojoba and sweet almond to keep the skin soft and supple while exfoliating. Also doubles as a mask having white clay to detox the skin and with the healing benefits of grape seed, colloidal silver and Totarol to reveal exceptionally soft and nourished skin. Sea salt is the perfect exfoliate as you can determine the degree of coarseness based on how wet you make the skin- which dissolves the salt, while also being the most responsible choice for our water ways and the environment. 
Read More
Biospherically Correct Rating
This product carries a Biospherically Correct rating of 1 2 3
The First Generation marker means that you can trust we've endeavoured to consider all social and ecological elements intrinsic to this product. Your purchase is an important part in helping us bring 2nd and them 3rd generation Biospherically Correct products to the world.
Why Choose this natural exfoliant?
❯ Sea salt deeply cleanses and exfoliates the pores while benefiting the skin with its minerals and stimulates circulation allowing the skin to glow. 
❯ Ideal for helping blemished skin through the combined natural antiseptic / antibacterial effects of sea salt, calendula extract, colloidal silver and Totarol (a rare phytochemical with potent antioxidant and anti bacterial properties).
❯ Helps revive dull skin, reduce scares, evens out the bumpiness of acne scared skin, and to provide a more radiant glow to aged or damaged skin.
❯ White kaolin clay is known for its detoxifying and softening properties - suitable for sensitive, elderly or young skin, and dry skin as it does not draw oils from the skin. 
❯ Beautiful product to use (especially as a part of one of our Skin Care Systems), leaves the skin feeling extremely fresh and smooth.  
New Zealand Anti-Cake Free Sea Salt
Purified water
Orange Flower Water
Sweet Almond Oil
Natural Emulsifying Wax
Vegetable Glycerol
Grape Seed oil
Kaolin White Clay
Vanilla Extract
Lemon Oil
Xanthan Gum
Jojoba Seed Oil
Calendula Extract
Carrot Oil
Orange Flower Oil
Totarol
Citrus Bioflavanoid Extract
Colloidal Silver.
Directions:
Use once or twice per week as a exfoliant or deep detoxing mask to improve skin clarity, tone and complexion - an important part in achieving radiant, youthful and conditioned skin, in any skin care regime. Ideal to prime the skin ready for vitamin rich enhancement from our Vision moisturises.
As an Exfoliate: Splash your face with lukewarm water and apply scrub to the face in small circular motions and massage slowly to remove dead skin cells. The salt will feel less coarse as it will be dissolving with the water on your skins surface. For a more thorough and coarse exfoliation apply to dry skin gradually massaging into the skin.
As a mask: Press plenty of product gently onto dry skin, allow 2mins (for a quick detox) and up to 20mins for best results. Exfoliate slightly if you wish before leaving the product to dry. A sea salt tingle will be felt on the skin after a few minutes. Rinse well to reveal exceptionally soft skin. Finish with your favourite Vision moisturiser.
Packaged in 50ml glass jar, with wood cellulose compostable stick on labels, wrap tags made from recycled paper and printed with vegetable inks.
Also comes in a bulk 200ml size and a refillable pocket size 10ml travel size.
Also comes in a bulk 200ml size and a refillable pocket size 10ml travel size.
Vision Products Online Ordering Guarantee
Be assured that if you are not completely satisfied with your purchase, or simply change your mind
we will be pleased to refund, exchange or repair within the following guidelines
Associated Charites
Select an associated charity at checkout to support on your behalf
You may also like the related products