Rejuvenating Face Superfood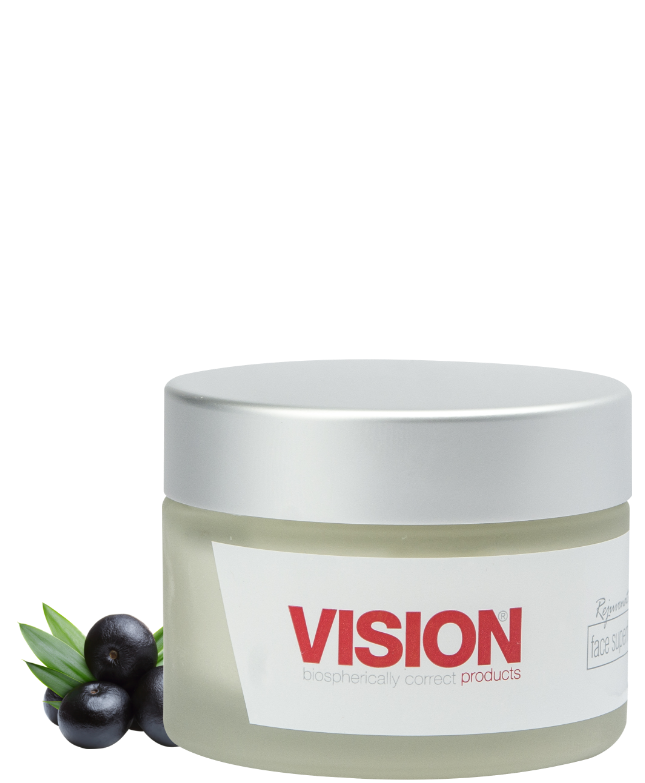 For the most nutrient rich moisturising   

A comprehensive, nutrient rich cream with exquisite texture and feel, designed for normal to dry and /or mature skin, where the most extensive hydration and nourishment is required. Face Superfood contains all of natures very best skin ingredients sourced from all over the world and featuring an exotic blend of anti-oxidant rich super fruit and nut oils to help maintain a natural youthfulness. Exceptional skin rejuvenating properties, including skin regenerating tamanu oil which gives this cream its slightly nutty scent.
Biospherically Correct Rating
This product carries a Biospherically Correct rating of 1 2 3
The First Generation marker means that you can trust we've endeavoured to consider all social and ecological elements intrinsic to this product. Your purchase is an important part in helping us bring 2nd and them 3rd generation Biospherically Correct products to the world.
Why choose this moisturiser?

❯ Provides extra hydration for a plumped appearance, absorbing rapidly into the skin making it ideal as a day cream for dryer skin types and / or an exceptional night cream for all skin types.
❯ Rejuvenates dry, damaged or aging skin, helping to aid the long term prevention and diminishment of wrinkles.
❯ Preserve connective tissue with the super oils of acai, tamanu, rosehip, calendula, evening primrose and sweet almond.
❯ With the softening properties of shea butter, camu camu for tone and elasticity and colloidal silver for general well-being. 
❯ Enjoy our super handy 10ml travel size, ideal for weekends away.  
Orange Flower Water
Rose Floral Water
Sweet Almond Oil
Vegetable Glycerol
Natural Emulsifying Wax
Acai Oil
Calendula Oil
Evening Primrose Oil
Rosehip Oil
Shea Butter
Camu Camu Extract
Tamanu Oil
Citrus Bioflavanoid Extract
Totarol ™
Colloidal Silver
Directions:
For an instantly beautiful appearance apply freely, gently smoothing into the skin. Treatment: For a re-energising & rejuvenating skin nutrition treatment, use our sea salt exfoliant, apply Citrus Lotion as a first layer, wait 30 seconds to dry, and finish with Face Superfood. 
SYSTEMS
Packaged in 50ml glass jar, compostable wood cellulose stick on label, wrap tags made from recycled paper and vegetable inks. Recyclable 10ml travel size.
Refill and reuse our 10ml travel size jar form the 50ml jar. Wash as needed.
Vision Products Online Ordering Guarantee
Be assured that if you are not completely satisfied with your purchase, or simply change your mind
we will be pleased to refund, exchange or repair within the following guidelines
Associated Charites
Select an associated charity at checkout to support on your behalf
You may also like the related products