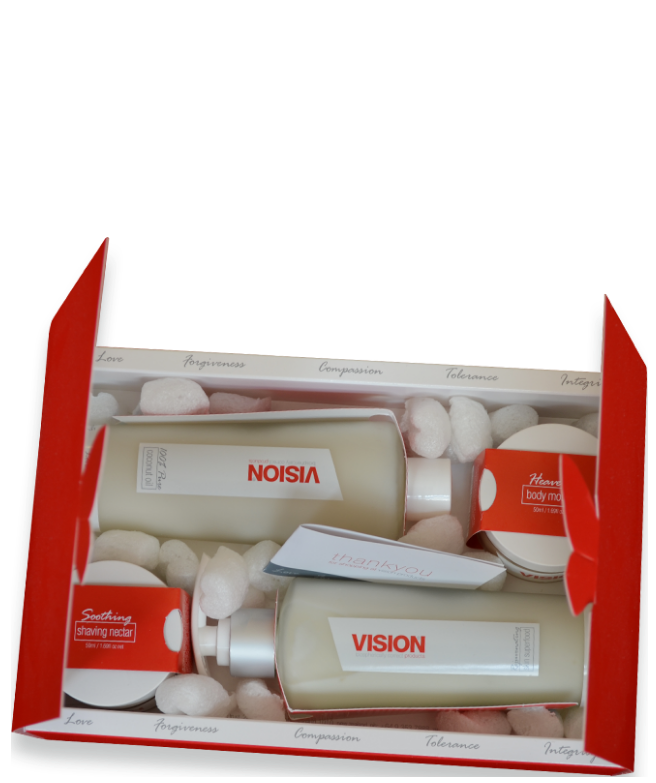 An extremely attractive gift pack. Refresh the skin with our Soothing Shaving Nectar and replenish with either our rich and creamy Body Mousse or our Rejuvenating Skin Superfood. Coconut oil is the perfect massage oil, easily absorbed, nourishing and maintains skin elasticity - sorry, masseuse not included!
Pack contains: 150ml Skin Superfood and 150ml Coconut oil, 50ml Heavenly Body Mousse and 50ml Soothing Shaving Nectar.
Value $124.96      Pack Price $99.99      Save $24.97
Delivered in large Butterfly Box made with card sourced from sustainable forests and printed with vegetable inks.

Complimentary gift card included. Remember to leave message instructions at checkout if you wish direct delivery to recipient.
Vision Products Online Ordering Guarantee
Be assured that if you are not completely satisfied with your purchase, or simply change your mind
we will be pleased to refund, exchange or repair within the following guidelines
Associated Charites
Select an associated charity at checkout to support on your behalf
You may also like the related products