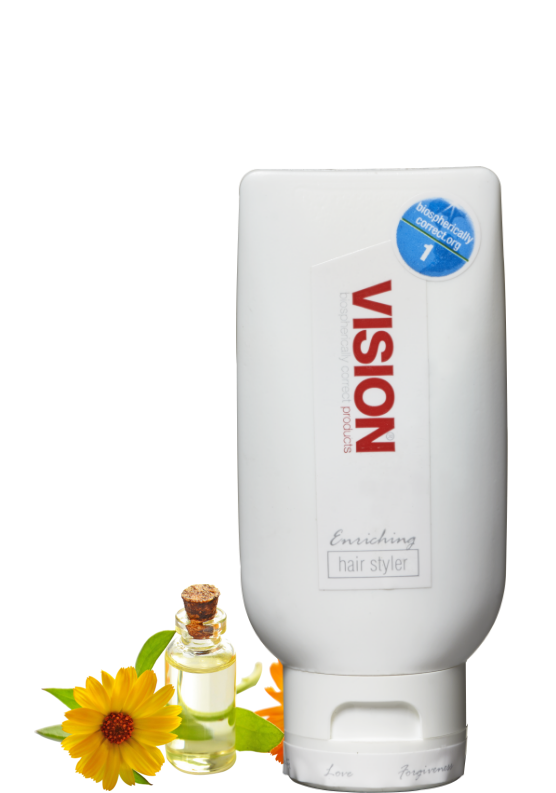 Why choose this hair styler?
❯ Exceptional, skin care quality, ingredients to nourish your hair; helping the scalp to feel healthy and the hair to look lush. 
❯ A unquiet product that styles and conditions the hair at the same time.
❯ Anti-dandruff agent from copaiba oil. 
❯ Easy to use pump bottle and refillable travel tottle.
❯ A fully natural formulation which easily rinses out. Sulphate and palm oil free.
Aqua (Purified Water)
Kaolin (White Clay)
Calendula Officinalis Flower Oil
Copaifera Officinalis (Copaiba) Oil
Vitis Vinifera (Grape) Seed Oil
Euterpe Oleracea (Acai) Oil
Xanthan Gum
Arnica Montana Extract
Calendula Officinalis Extract
Myrciaria Dubai (Camu Camu) Extract
Ilicium Verum (Herbal Active)
Melissa Officinalis (Lemon Balm) Extract
Vanilla Planifolia Extract
Fibre
Dextrin
Hamamelis Virginiana (Witch Hazel) Extract
Certified Organic Aloe Powder
Citrus Aurantifolia (lime) oil
Citrus Tangerina (Tangerine) Oil
Citrus Bioflavanoid Extract
Colloidal Silver.
Directions:

 

Apply to damp or dry hair after washing. 

See

 Handy Hints.
SYSTEM
Packaged in PP (polypropylene) plastic and glass jars for recycling. Labels are made from recycled paper and vegetable inks.
Brought to you in three convenient sizes: Value size 150 ml bottle with pump Travel size 50ml bottle Pocket size 10ml
Simply buy a 150ml refill when re-ordering, which has a cap, and keep your existing pump. Then use your 150ml bottle to refill your 50ml tottle and 10ml jar. Note: the pump is the most complex part of the product packaging and difficult to deconstruct in order to recycle its individual components (plastic, aluminium sheath, inner spring). It will also most likely keep working for quite some time for many bottles to come.
Vision Products Online Ordering Guarantee
Be assured that if you are not completely satisfied with your purchase, or simply change your mind
we will be pleased to refund, exchange or repair within the following guidelines
Associated Charites
Select an associated charity at checkout to support on your behalf
You may also like the related products