Nourishing Eye & Face Cream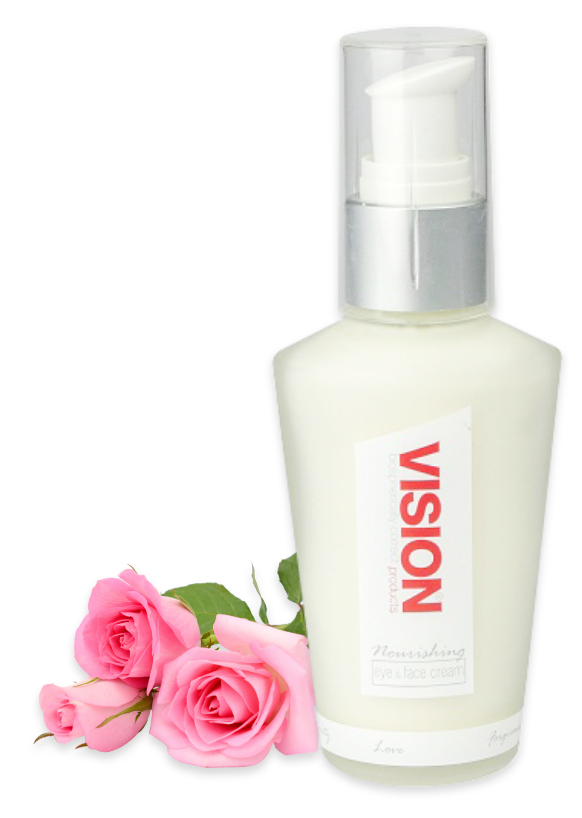 – for light yet nourishing day or night moisturising
This convenient 2-in-1 natural eye and face cream, formulated with anti-oxidant rich acai oil, provides good fatty acids for prime skin nutrition. A mid-weight cream versatile yet nourishing enough to use both day and night, this is a excellent all rounder with a subtle and delightful rose scent.  Value $59.99.
Biospherically Correct Rating
This product carries a Biospherically Correct rating of 1 2 3
The First Generation marker means that you can trust we've endeavoured to consider all social and ecological elements intrinsic to this product. Your purchase is an important part in helping us bring 2nd and them 3rd generation Biospherically Correct products to the world.
Why choose this moisturiser?
❯ A convenient 2-in-1 with a velvety feel suitable for all skin types.
❯ Mild sun protection factor from shea butter.
❯ With acai, rich in vitamin E for tissue regeneration, and phytosterols that protect the superficial layer of the skin from wearing away.
❯ With pure rose absolute, the queen of floral oils, for softening, rejuvenating and providing a divine rose scent.
❯ Plus sweet almond oil / Shea butter / gotu kola / colloidal silver for extra skin protection, repair & nourishment.
Rosa Damascena (Rose) Floral Water
Glycerin (Vegetable Glycerol)
Amygdalus Dulcis (Sweet Almond) Oil
Euterpe Oleracea (Acai) Oil
Glyceryl monostearate (And)Sodium Stearoyl Lactylate (And)Cetearyl Alcohol (Natural Emulsifying Wax)
Butyrospermum Parkii (Shea) Butter
Cetearyl Alcohol
Centella Asiatica (Gotu Kola) Extract
Rosa Damascena (Rose) Oil
Citrus Bioflavanoid Extract
Colloidal Silver.
Directions:
Use morning and night to nurture and bless the skin after cleansing. Gently pat apply around the eye area and then massage slowly into the face and neck.
SYSTEMS
Packaged in a glass bottle with eco compostable stick on labels and wraps made from recycled paper and vegetable inks.
Brought to you in two convenient sizes: value size 50 ml bottle with pump and pocket sample size 10ml. Keep pump and buy refills when re purchasing.
Simply buy a 50ml refill when re-ordering, which has a cap, and keep your existing pump. Note: the pump is the most complex part of the product packaging and difficult to deconstruct in order to recycle its individual components (plastic, aluminium sheath, inner spring). It will also most likely keep working for quite some time for many bottles to come. Wash (if need be) and reuse the 10ml jar which can be refilled from your 50ml bottle.
Vision Products Online Ordering Guarantee
Be assured that if you are not completely satisfied with your purchase, or simply change your mind
we will be pleased to refund, exchange or repair within the following guidelines
Christine volunteered for Vision Products during the San Francisco Green... Festivals in 2014 and 15, helping make our presence in the US a huge success. She fell in love with our products and has used them ever since. Thank you Christine for such a great review!
Read More
Associated Charites
Select an associated charity at checkout to support on your behalf
You may also like the related products