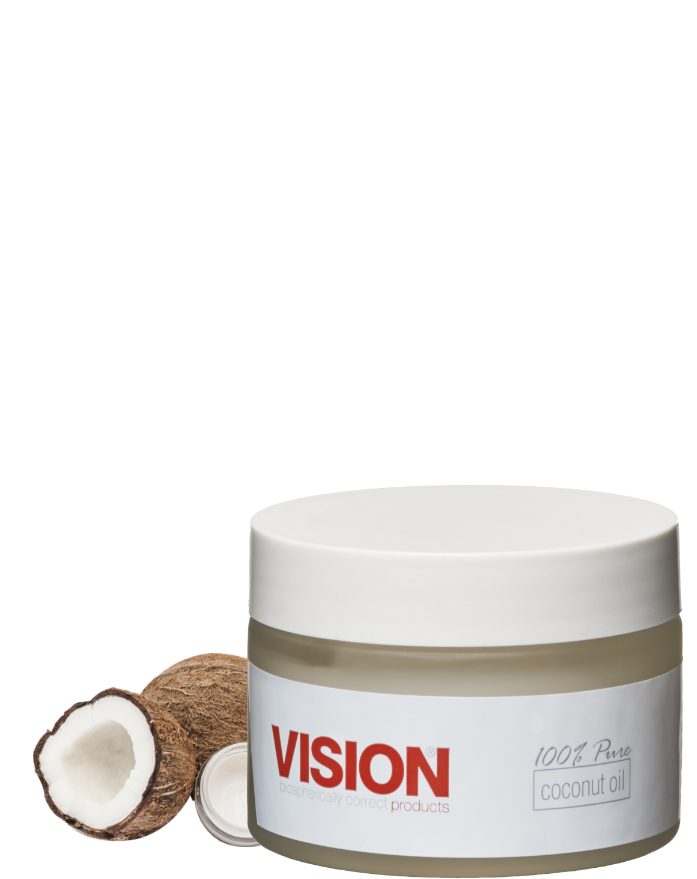 Why choose this product?
❯ Use as a pre-conditioner treatment providing essential proteins for revitalising damaged hair. 
❯ Massage into the scalp once or twice per week, before bed, as a natural treatment for reducing dandruff.
❯ Apply as an ideal moisturiser for dry or problem skin, with claimed antiviral, antibacterial, and antifungal properties.
❯ An excellent and extremely economical natural eye make up remover. See how to use below.
❯ Provides an attractive natural sheen ideal as a highlighter for legs and bodybuilders.
❯ Ideal to use on baby's skin and helps reduce nappy rash.
Coconut Oil
Hair treatment: Coconut oil is an excellent pre-conditioner and provides the essential proteins required for the re-growth of damaged hair. Regular massage of the head with coconut oil can also prevent dandruff. Soften 1-2 tsp (depending on the length of your hair) of solid oil in the palm of your hands by rubbing them together. Massage oil through your hair evenly while gently rubbing the scalp to stimulate blood circulation. Leave on hair for 30-60 minutes or overnight for a very deep conditioning treatment. Rise thoroughly in the shower with warm water and then wash as normal. 
EYE MAKE UP REMOVER:SCOOP ABOUT 1/4 TEASPOON OF COCONUT OIL OUT ONTO THE FINGERS, IF SOLID RUB BETWEEN YOUR FINGERS UNTIL A LIQUID - THE HEAT WILL TURN IT TO A LIQUID. CLOSE EYES AND GENTLY SPREAD AND MASSAGE OVER YOUR EYE LIDS, LASHES AND UNDER EYE AREA, WILL NOT HURT OR STING YOUR EYES BUT MAY MAKE EYES BLURRY FOR A MOMENT - BUT THAT WILL GO AWAY. USE A WARM WET WASH CLOTH TO WIPE AWAY THE MAKE-UP AND OIL, THEN SPLASH AND RINSE YOUR FACE WITH WARM WATER. RINSE WASH CLOTH WITH WARM WATER AND THEN RE-WIPE THE ENTIRE FACE. REPEAT THE WHOLE PROCESS IF NECESSARY. FINISH WITH YOUR FAVOURITE VISION MOISTURISER. 
Body: Can also be used for massage and as a body moisturiser. Apply any time to extra dry or damaged skin. For oilier skin, apply before the shower for a general skin rejuvenation treatment. Note: coconut oil can make surfaces very slippery. Be careful not to slip if applied to soles of feet while in the shower.
COOKING: Replace other cooking oils with coconut oil for greater health and taste, especially tasty with a range of foods including; eggs, seafood, smoothies and for baking and deserts. Use a table spoon per serve, some health regimes recommend 2 table spoons per day.
Packaged in glass jars with compostable stick on labels and wraps made from recycled paper and vegetable inks. 
Cold pressed coconut oil doesn't go rancid easily if stored in a cool, dark place, and will keep its freshness a long time, but do not leave in the sun on bench tops as this will quickly spoil the oil.
Part of a multi-use refill/recycle system so that you integrate this 
highly versatile product conveniently into your life. Reuse the smaller size coconut bottle and jars by refilling from our 750ml bottle. 
As coconut oil is a solid under 24.5 degrees and a liquid over that temperature be careful in summer when removing lid to avoid spillage and be sure to tighten lid when traveling.
Vision Products Online Ordering Guarantee
Be assured that if you are not completely satisfied with your purchase, or simply change your mind
we will be pleased to refund, exchange or repair within the following guidelines
Associated Charites
Select an associated charity at checkout to support on your behalf
You may also like the related products