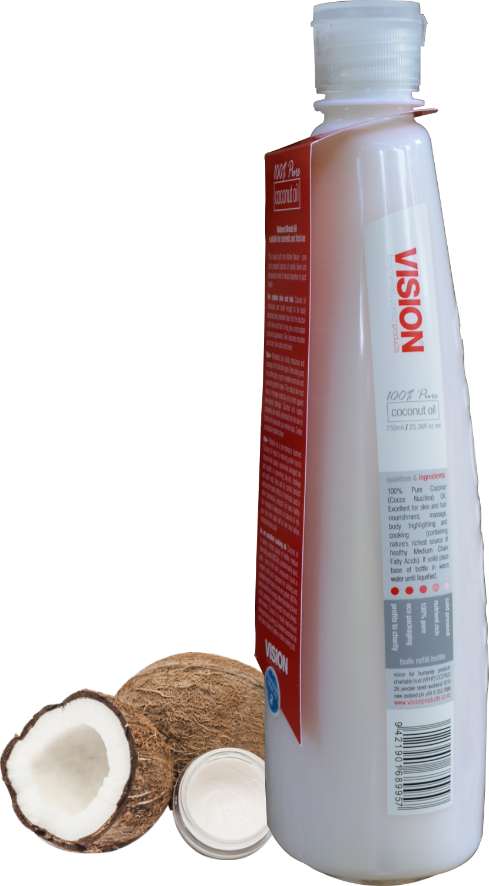 Why choose this bottle?

❯ Coconut oil is a liquid over 24.5 degrees and a solid below that temperature.  
❯ This bulk 750ml PLA (corn based) bottle is the best way to top up your stock of our 100% pure coconut oil. Simply immerse bottle in warm water and leave for 12-15 minutes until your coconut oil it becomes liquid, then refill your 250ml kitchen jar, 50ml travel size jar and 150ml massage bottle as needed. Keep buying this bottle as required. 
❯ This oil is made from a model farm in Fiji, using wild harvested coconuts, eco processes, and which up skills local people in order to improve community. 
❯ We believe that coconut oil is a vital component to maintaining ones full health. Enjoy better health, use an eco packaged refill system, support a model farm, and select a charity at check out to support.  
Coconut Oil
Use to refill other Vision coconut oil products for skin, hair, massage and cooking.
As coconut oil is a solid under 24.5 degrees and a liquid over that temperature,
you need to immerse this 750ml bottle in warm water to refill other containers.
Cold pressed coconut oil doesn't go rancid easily if stored in a cool, dark place, and will keep its freshness a long time, but do not leave in the sun on bench tops as this will quickly spoil the oil.
Packaged in a 
PLA (corn based)
 bottle with 
wood cellulose 
compostable stick on labels and wraps made from recycled paper and vegetable inks. 
Part of a multi-use refill/recycle system so that you integrate this product conveniently into your life. Reuse
the smaller size coconut bottle and
jars
by refilling from our
750ml bottle.
Directions for

 

150ml glass bottle and 750ml PLA bottle:
immerse in very warm water (gradually warm glass bottle first under the tap to avoid breakage). Wait several minutes for a little melting to occur for use. To melt the full contents of the 750ml bottle you may have to leave for 15 minutes depending on temperature and repeat with freshly warmed water if need be. This will not damage the oil in any way.
- see our
Handy Hints
 for further ideas on how to use this product.
Vision Products Online Ordering Guarantee
Be assured that if you are not completely satisfied with your purchase, or simply change your mind
we will be pleased to refund, exchange or repair within the following guidelines
Associated Charites
Select an associated charity at checkout to support on your behalf
You may also like the related products